The new Audi Q8 and next-gen BMW X5 have finally been revealed.
TWO near rivals in the luxury premium sports utility sector that are set to become big hitters here have been revealed by their rival German makers.
Within hours of Audi providing official images and first factory detailing of the Q8, which though a sister ship to the Q7 is, as a coupe-SUV, set to directly rival the BMW X6 and Mercedes GLE, BMW had matched with similar information in respect to the next-gen X5.
Munich's response was not just prompted by desire to tear attention away from its Ingolstadt rival – BMW doubtless felt compelled to provide factory comment after images of an undisguised X5 hit the web.
New Zealand distributors for the brands have yet to offer any fresh local comment about what versions will come here, though both BMW New Zealand and Audi NZ – the latter part of the Giltrap family's European Motor Distributors cabal – have previously indicated that we can expect to start seeing these models before the end of this year. However, BMW NZ has also previously suggested the full X5 onslaught will not begin until early 2019.
Though on the same platform and has the same wheelbase as the Q7 (and, of course, the Porsche Cayenne and VW Touareg), the Q7 is, at 4986mm long, about 66mm shorter than its sister model. It's also 27mm wider, a factor (along with a lower roofline) that lends a sportier stance.
Audi is launching with a 210kW 3.0-litre V6 diesel (badged Q8 50 TDI) but is expected to follow up within six months with a 245kW V6 petrol and another diesel, with 170kW. SQ8 and RSQ8 models are said to be on the drawing board.
All engines feature 48V mild-hybrid technology, which allows extended stop-start and a coasting function and all Q8s have quattro four-wheel drive. Adaptive air Sport suspension and Audi Drive Select, with up to seven modes that alter not only the suspension but also the steering and engine response, seem likely to come here. As with the A8, the Q8 also gets all-wheel steering to help with high-speed changes of direction and manoeuvrability around town.
The diesels use an eight-speed Tiptronic gearbox whereas the petrol has a seven-speed dual-clutch box.
All cars get HD Matrix LED headlights, 21-inch alloy wheels, leather and Alcantara sports seats, while options include 22-inch wheels, heated rear seats, four-zone climate control and a Bang and Olufsen stereo.
Amongst the swish tech there's Park Plus Assist, which incorporates a 3D view that allows you to see the car from the perspective of a drone hovering around outside it, which packages with remote parking. Audi has followed BMW into adopting Garage Pilot and there's also Trailer Assist.
Overseas reports say the cabin draws heavily on the design and layout of the latest A8, with systems controlled through a pair of central screens. The virtual cockpit digital instrument panel will also feature, along with a head-up display.
The car will be available as a four or five-seater, and the rear row can slide fore and aft to prioritise cabin space or the luggage area, with boot capacity being 605 litres, expanding to 1755 litres when the back seats are stowed.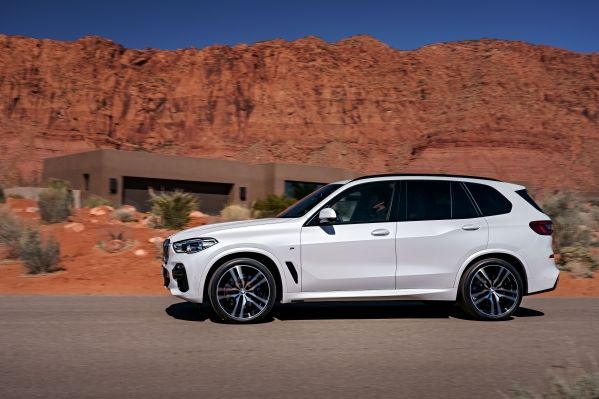 The fourth generation of the X5, meanwhile, retains classic BMW styling cues but has the latest variation of the trademark grille.
The model will debut with two engine options. The xDrive40i is powered by a 250kW 3.0 litre, twin-scroll turbocharged inline-six-cylinder while the xDrive50i gets a more powerful 4.4 litre, twin-turbocharged V8, with 340kW.
Both powerplants are hooked up to an eight-speed automatic transmission and BMW's intelligent xDrive all-wheel-drive system.
According to BMW, the xDrive40i can hit 100kmh from a standstill in 5.3 seconds while the xDrive50i does it in 4.6s and is slightly faster, with a top speed of 250kmh.
The line will be available with a slew of tech features including the latest version of BMW's iDrive infotainment system, a backup assistant that takes over steering while reversing, a pair of 12.3-inch high-definition digital displays, and active drivers' assistant systems.