The most popular Mercedes model with Kiwis has just undergone a mid-life update. What can we expect from the refreshed C-Class?
SAT nav shows it as a thin blue line midday midstream in a river running parallel with each bank, but at ground – or, at least, motorway – level, any sign of the border delineating where Luxembourg ends and Germany begins is not apparent.
Then again, at the speed we were travelling, perhaps I missed it. The speedometer at that point was pretty much proving mesmerising. It's not every day that you get to ride in a car holding 230-250kmh, right?
About that. Here's the thing. Both countries use a common open road sign that suggests unrestricted speed. In fact, it has different meaning depending on what side of the border you're on. The 130kmh limit that is recommended on the autobahn is, we learned that night, the maximum permitted in its little neighbour.
This was news to my Australian driving partner, despite him being very experienced of Europe. We mulled it when re-crossing back into Luxembourg the next morning, this time in the wagon version of the C43 AMG that had been the star of that previous outing. For all of five seconds. "Ah, #@%& it," my colleague laughed, as he buried the throttle once more.
Riding with a truly expert – and extremely entertaining - high-speed driver was an unexpected thrill of being on the international media programme for the updated C-Class.
One that, despite being a bit naughty in places, was really worth experiencing, if only to provide proof positive about little of the full talent base of cars such as this is revealed in a 100kmh environment. Not that I'm advocating raising the speed limit here. Not, at least, until we ever get roads like those amazing autobahns.
Still, if you are in a place where the new 'entry' AMGised edition of this medium sedan can be properly driven, then prepare for a smile-making surprise. This car, in facelift form, seems to have become somewhat more feral than it was the first time around. More bark, more bite. More serious.
But not the main attraction. That's the new C200, by dint of being the first mainstream Benz to run with technology and a badge you're going to see a lot more of.
EQ, in general, associates with electric assistance and, in the main, is about wholly battery-compelled product, the first of which is next year's EQC crossover. To be followed by a smaller city-centric car, EQA, then eight more products over the next four years.
But alongside those all-out ohm market models will also come renditions of familiar mainstream fare, improved with addition of electric assists. The entry car in the updated C-Class family arriving here in August is the first of that new kind; warranting an EQ association by dint of it now having a 48-volt hybrid system that fizzes up performance of its 1.5-litre turbo petrol engine. And, yes, that's a downsize, too; the outgoing car has a 2.0-litre. More about this in a moment.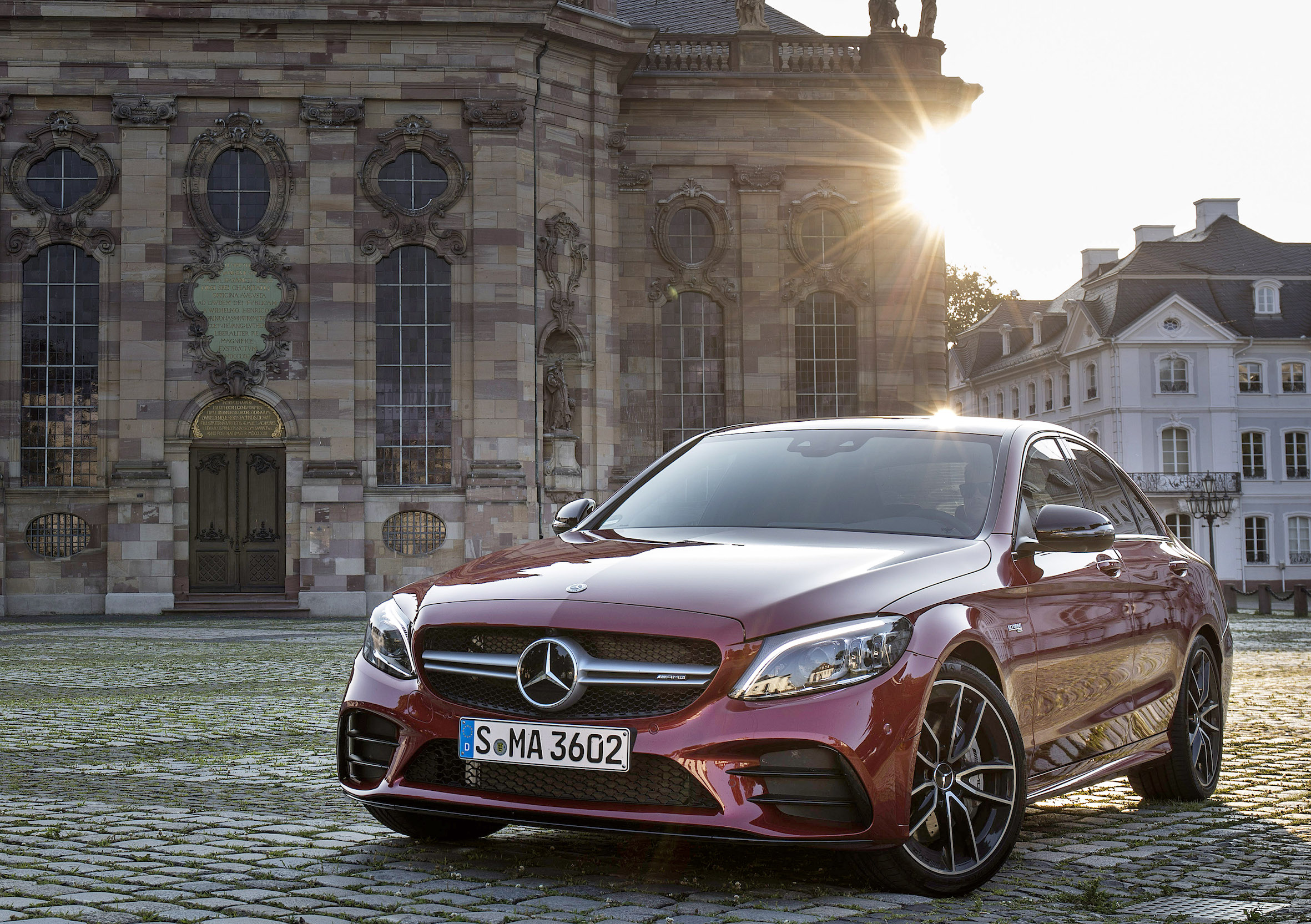 First, the bigger picture. This big step times in with a mid-life facelift for a model that is pretty special to NZ.
Being the top-selling Mercedes passenger vehicle is quite some achievement, this being at a time when the consumer abdication to crossovers has been bad news for sedans. Benz has no shortage of desirable quasi rock-hoppers and, yet, the C-Class still outsells them. Well enough, in fact, to be the third best-selling booted car in our market, behind the Ford Mondeo and heavily fleet-supported Toyota Camry.
When a car is that popular, you wouldn't think extensive change would be a good thing, for fear for spoiling the recipe, right? Not Benz. Even though the updated car looks a lot like the one we've enjoyed for four years, it is massively revised: Around half of all components being replaced or at least improved adds up to 6500 bits. Also, and 80 per cent of the electronic architecture altered.
Exterior revisions do not betray much of this story, as they go little further than the usual bumper and headlight restyles, though the latter now comprise LED types, in two formats, the more advanced being those reserved as standard for the C43 AMG and optional down the line.
Slipping inside delivers greater reward due to the control set being upgraded to much the same level seen in the S-Class. There's a new steering wheel with touch controls. The historic cruise control 'wand' has been dropped intuitive toggle switches and buttons.
The main fascia provides a new 12.3-inch digital instrument cluster, not quite as smart as Audi's virtual cockpit, but still rather more snazzy than the previous display, with superior graphics, more info and greater opportunity for customisation via the twin touch-pads on the steering wheel.
This, and a 10-inch widescreen infotainment display located in the middle of the dashboard, will be standard on NZ-bound product.
The line up also now steers toward a self-driving future by implementing semi-autonomous technology from the flagship S-Class. Ability to steer, accelerate and brake by itself – albeit for no more than 60 seconds before demanding human intervention – on properly marked roads (for here, that'll generally be motorways) is thanks to an increased number of sensors embedded in its skin. It will even change lanes without a helping hand.
All this represents big improvement, however these enhancements are secondary to the drivetrain changes.
First up, it's all change for the automatic transmission. Divested is a seven-speed. Now all editions run a nine-speed auto.
This box marries across four engine types: The C200's baby mill, a 2.0-litre turbo petrol for the C300, a like-capacity diesel, also turbocharged, for the C220d (that's restrict to just sedan and wagon formats), and the 3.0-litre turbocharged V6 reserved for the C 43 AMG.
On our back-to-back drive days, the smallest and gruntiest units were the stars.
No argument, the C43 that provided the high-speed thrills was the most invigorating. The 3.0-litre V6 petrol's twin turbos having been reworked, for 287kW power – a 17kW increase – and 580Nm now, means it picks up more pace, but what also impacts is that it is much more of a pukka AMG car, now.
The 0-100km time of 4.7s and a snarling exhaust note are the most immediate tell-alls to its enhanced spirit, but there's also worthy improvement to the dynamics, too. Sport and Sport Plus are firm, yet the handling pay-off is impressive. Brakes and steering feel are far sharper and being the only all-wheel-drive opportunity in an otherwise rear-drive pack hardly makes it an off man out; indeed, the 69 percent rearward-biased all-wheel-drive is so assuring you wish it would feature elsewhere.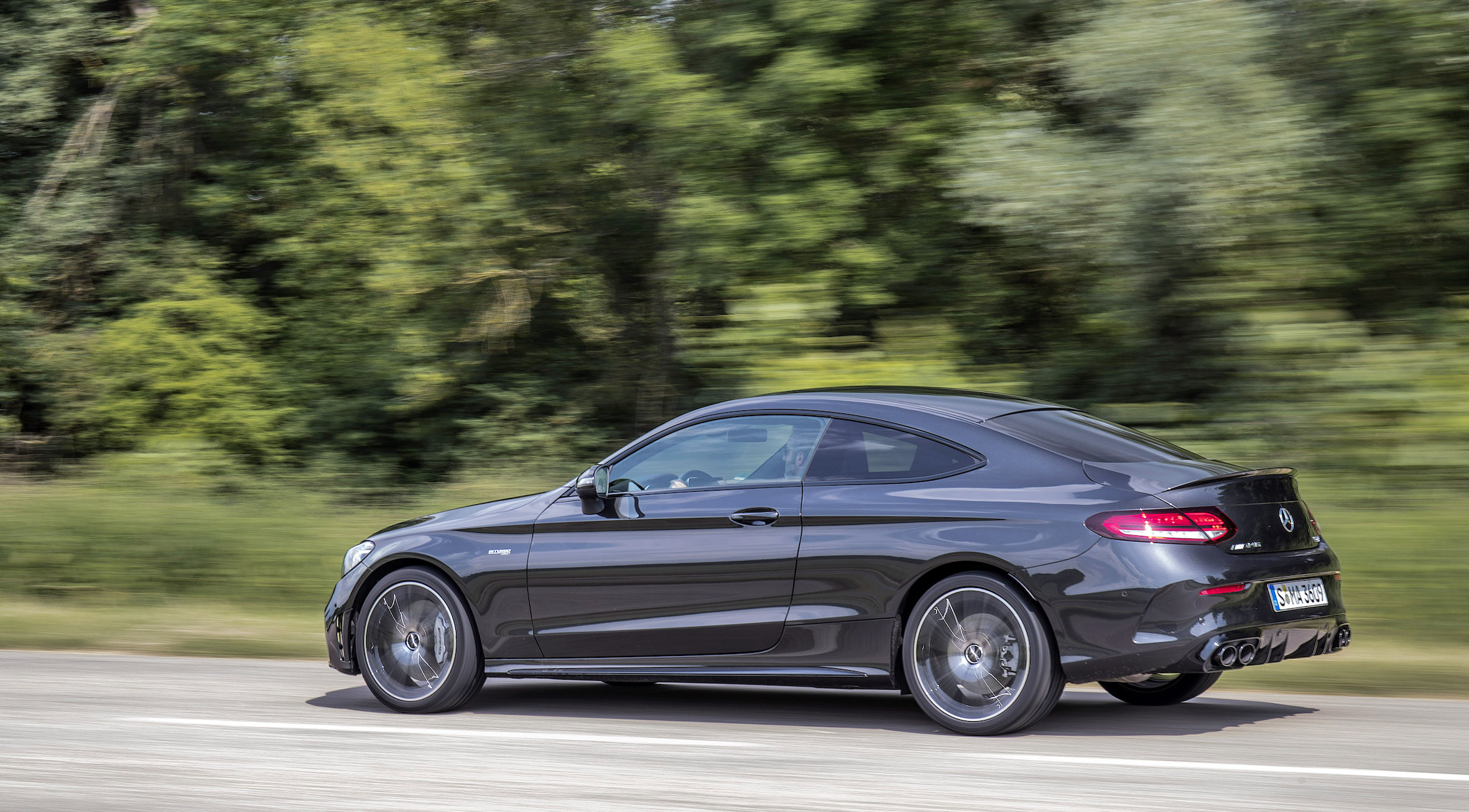 Visceral awesomeness sidesteps the C200 and, though it is a rewarding car to drive, it won't hold the fast lane status, of course. But, insofar as technology goes, it's the most exciting family member, given it lends first taste of brains-to-get-brawn under-bonnet tech set to go big.
Lots of maker have been able to get away with downsizing having shown they can do this without losing out on performance, power and torque outputs while also enhancing economy and efficiency.
The C200 is familiar in all those ambitions. In featuring a twin-scroll turbo, the 1.5 generates an impressive 135kW/280Nm - 5kW more and 20Nm less than from the outgoing 2.0-litre engine., But that's before factoring in the implementation of an extra twist to the 'how' it shows smaller is better.
That's where the 48-volt set up comes in. Acting as an ancillary power source, the mild hybrid system gives the engine a brief 10kW/160Nm jolt of additional energy during the car's initial step-off. It's enough to make the model, tried out in its 1505kg sedan format that Kiwis prefer, feel swift off the line, by adding a quick injection of acceleration until the turbocharger builds up enough urge.
The C200's engine is remarkable for smoothness and torque. During our impromptu testing, kick-off felt a touch tad tardier than with the old engine (Benz disagrees, but admits to a 0-100km of 7.8s), but once rolling you get impressive push from quite low in the rev range, a reflection of how the system is inputting some extra zap between shifts through the lower gears.
The mild-hybrid boost is delivered via a Bosch-built integrated starter/alternator generator powered by a small 1kWh lithium-ion battery, which is within a solid metal case and is intended to last the entire life of the car and be servicing-free.
There's not juice to propel the car in a pure EV mode, nor does it send any power to operate the electrical systems – so, in that respect, it's wholly different to the VW Group approach, which is to give cars (so far the Audi Q7 and Bentley Bentayga) a separate power source to generate oomph to run high-tech electronics including active suspensions. Also, the EQ effect works at very low revs, so it won't give you a power boost when overtaking at 100kmh.
But this remarkably compact system – which all sits in the engine bay, taking up space that in the previous car was occupied by the regular battery (which relocates to the boot) – earns its keep by not only boosting performance but helps reduce fuel consumption to a respectable 6.0L/100km, with CO2 emissions of 136g/km (claimed).
What also abets the efficiency is a neat 'gliding' function in which the engine switches off on mild downhill gradients to save petrol and it also enables an especially seamless engine idle-stop system.
Being a somewhat softer and more laidback car to drive than that rambunctious C43 didn't really hurt the C200; it has similar ride comfort, handling and road holding to the outgoing model, so delivers good ride quality, quietness and yet also a decent handling ability, its composure through corners being especially impressive. How fast? Well, one colleague reported it could reach 240kmh. Not bad for a wee 'un.
The C300 which between these two bookends has also undergone some mechanical change, with power climbing 10kW to 190kW while torque remains at 370Nm; the extra grunt over the C200 shows in the 0-100kmh time of 5.9s but is otherwise most obvious when ascending hills.
The EQ Boost potential and diminished general interest means less need for diesel, so of three units on offer, just the 2.0-litre C220d takes residency, in sedan and wagon only – a soft job for a new unit pumping 143kW/400Nm, offering 4.7L/100km and 0-100kmh in 7s.
C-Class pricing is to be announced closer to launch in August.