The direct successor to the original LS400 that launched Lexus almost three decades ago will likely be a rare sight here.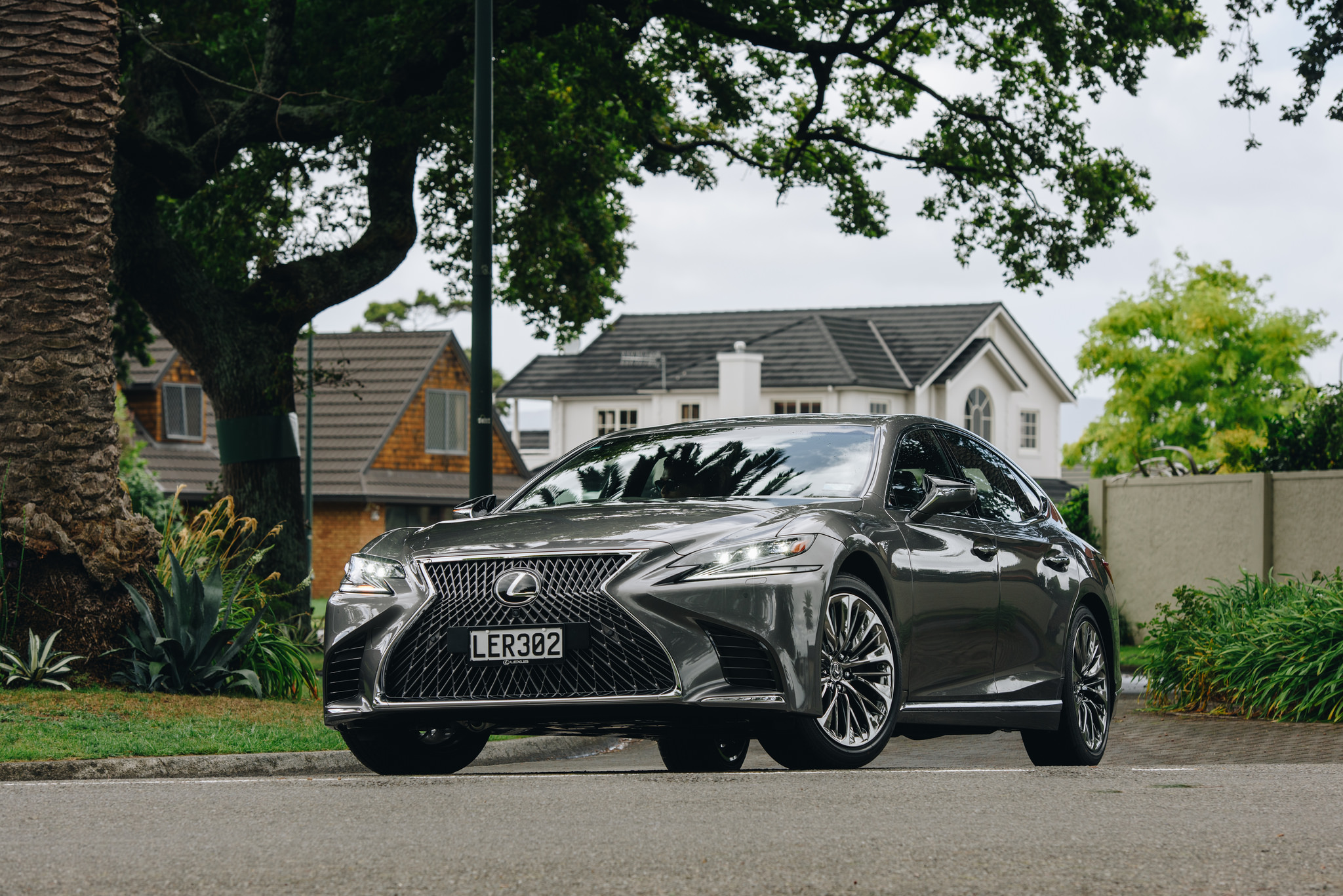 Volume expectation for the fifth generation of Lexus' landmark luxury limo is now.
Just seven examples of a model now in six-cylinder twin turbo petrol LS500 and petrol-hybrid LS500h formats, both for $224,900 are expected to find homes here over the remainder of 2018.
Senior general manager Paul Carroll suggests that's due to a number of factors beyond the changing climate of the sector in which it sits.
Limited availability of the petrol-electric and also recognition that Lexus still doesn't command the same attention meted the rival BMW Seven Series and Mercedes-Benz S-Class also comes into it.
"It's a small market," he said today.
"The Seven Series and S Class do about 20 per annum each so we have a sales target of seven, which I think is a reasonable number.
"Buyers tend to be conservative and the new LS is a pretty brave vehicle in many ways – but we are seeing the traditional Lexus owners be more imaginative as we have changed our designs."
He also acknowledges some global allocation difficulties with the hybrid electric "as demand on the LC (which uses the same hybrid system) has been high.
"But I'm sure we can get more if we need them."

With exception of a few floor stampings and some of the rear suspension, this LS is pretty much all new.
With this model, Lexus NZ is enforcing the ethos of 'omotenashi', a concept of total Japanese hospitality. Carroll says the model "reflects a strong and uniquely Japanese identity and approach to flagship luxury."
"It goes far beyond what is expected from a luxury car."
"Taking care of and anticipating the needs of the driver and passengers, attending to their comfort and protecting them, that is the philosophy," says Carroll.

As previously reported, the model is longer than before, with a 3120mm wheelbase and 5234mm overall. And, yes, this is a sole wheelbase option: Previously there were long and standard length choices.
Customers are winners as the new car is 33mm greater than that of the previous L and overall length is up 25.4mm too. The new car is also 25.4mm wider and 25mm lower. Its ground hugging appearance comes from the 15mm lower roof line and a bonnet and boot that are respectively 30 and 40mm lower than the LS model it replaces.
Whereas every previous-generation LS has relied upon V8 engines for propulsion, the new one is a six-cylinder only proposition. The standard engine is the new 3.5-litre direct-injected, twin-turbocharged DOHC 24-valve V6.
It produces 310kW of power and 600Nm of torque, a significant gain over the out-going V8 engine's 285kW/493Nm.
The 10-speed automatic, shared with the LC 500, provides shift times similar to dual clutch systems. Greater use of aluminium components means it weighs no more than the eight-speed unit used in the previous LS460.
The 500h's hybrid powertrain is similar to that of the LC500h coupe and uses a different, naturally aspirated, Atkinson-cycle 3.5-litre V6 to that in the 500.
This engine is used by other Lexus models and is derived from a Toyota unit that appears in everything from the Camry to the North America-only Tacoma truck.
In this application, Lexus rates it at 219kW before adding in the electric motors, which boost output to a combined 264kW total system output.
In Lexus-speak, the electric motors are Motor Generator 1 and Motor Generator 2. Both are water-cooled, permanent-magnet units responsible for both propulsion and regenerative braking, and they're fed by 84 lithium-ion cells.
The trick element in the hybrid system, is the multi-stage hybrid transmission. This uses a four-speed planetary gearbox coupled with the elements of a hybrid's continuously variable transmission. The two halves are programmed to become a 10-speed auto, while still allowing for some all-electric motoring.
The exterior shape evidences shows the latest Lexus design language and is based on an extended wheelbase version of the new global architecture platform for luxury vehicles which was debuted by the LC.

Lexus says a 'driver-centric' feel stems from this new platform and offers a more dynamic driving experience through the multi-link suspension, which also provides the supreme comfort Lexus is known for. The car runs on 20-inch diameter electroplated alloys.

The air suspension can be raised when unlocking the car with the smart key, making it easier to get in and out. At the same time the driver's seat bolsters open.

Carroll says it is the interior where the LS500's character really stands out, with an intuitive sense that you're looking at an interior that is unlike any other luxury car.

The model "has unique appointments and visionary technology to surprise customers and reset their expectations," he says.

Twenty-eight-way power adjustable front seats include pneumatic control systems for fine adjustments with heating, ventilation and massage functions. The outer rear seats are 18-way power adjustable and have specific heaters for the shoulder and lower back areas.

Four leather accented upholstery colour choices are available – black, ivory, topaz and noble brown – featuring quilting and hand pleating. The headlining is trimmed in luxurious suede.

Shimamoku wood patterning is one of the interior ornamentation options, also available is laser cut wood which uses laser cutting manufacturing technologies. The other interior styling options are walnut and tinted red grain. The interior lighting in LS is inspired by Japanese Andon lanterns.

Information displays on the dashboard are clustered at a uniform height so the driver does not have to change body posture to operate all the systems.

A next generation remote touch interface mimics smart phone operation. The navigation system has a 12.3-inch widescreen and there is a 600mm wide colour head-up display, making it one of the largest in the luxury class.

The 23 speaker Mark Levinson sound system performs at its optimum. The speakers are placed in 16 locations, including the ceiling.

Lexus Safety System Plus is included which features a Pre-Crash System with Autonomous Emergency Braking and Pedestrian Detection, Two-stage Adaptive High Beam headlamps, Lane Departure Alert and All-Speed Dynamic Radar Cruise Control with Lane Keep Assist.

A panoramic view monitor provides a view of the side and cornering clearance space. A rear camera detection system, another Lexus first, uses a camera and radar to detect pedestrians behind the car, an advance on the standard rear cross traffic alert which only detects vehicles.

Other standard features include a hands-free power boot lid; four zone climate control air conditioning; rear colour touchscreen display arm rest control panel; moon roof; rain sensing wipers; power back and rear side window shades and exterior mirrors with automatic dimming, auto fold, heating and reverse tilt.